Welcome to Williams Transfer and Storage, agent for United Van Lines, located in Tupelo, Mississippi. This site will help you become familiar with our extensive moving and storage capabilities as well as provide you with valuable tools for planning your move.
Williams Transfer and Storage is a full service moving company that specializes in transportation and storage of household goods and other commodities. We serve individual consumers as well as corporations, manufacturers and government agencies in local, long distance and international moving. We also offer commercial warehousing, distribution and logistics. 
As an agent of United Van Lines, we are backed by a large fleet of clean, fully-equipped moving vans, trained, uniformed and courteous personnel, we can be trusted to handle your move quickly, efficiently, safely and economically. Whether we move a few pieces to an apartment or a mansion full of furniture, we are anxious to show you the pride that goes into each move.
Whether your needs are local, long distance, international… and whether you are relocating your family or moving an entire office/business, we offer professional service every time. 
---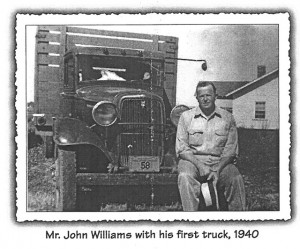 HISTORY:
John R. Williams started his moving business in 1939 with one truck. By 1949, his small company had joined American Red Ball as an agent. In 1958, his oldest son, James, joined the company and is still a vital part of the company today. Mike, the youngest son, joined the family business in 1973 and is currently the General Manager. In 1995, the company became a United Van Lines/Mayflower Transit agent, a partnership which continues today. The company philosphy is the same today as it was back in 1939 – "Take Care of the customers as if they are family."